To help you identify your thread we have produced the table below.
1) Measure the diameter of the Male or Female thread with calipers
2) Check the dimension table below narrow down your likely thread form – dimensions are provided for Metric, BSP, NPTF and UNF (also for the thread section of JIC) threads
3) Determine the pitch or threads per inch - for metric pitch measure between two thread peaks – the number in the pitch/TPI column for metric threads is in mm. For TPI measure the number of threads over e.g. a ¼" - so 4 threads in a ¼" in the example picture = 16 Threads Per Inch (TPI)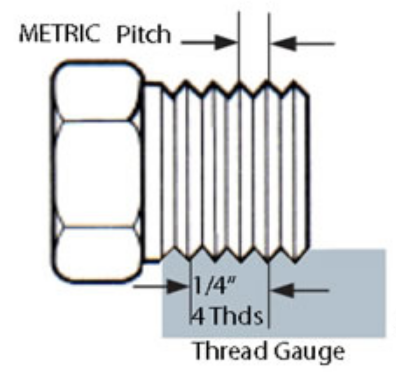 4) If you own a thread gauge, check your selection and ensure there are no gaps between the thread and the thread gauge.